All systems go for e-tolls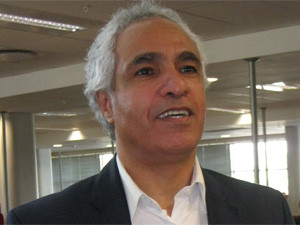 Despite the hue and cry around the institution of e-tolling on Gauteng's roads, and an upcoming court case, it is all systems go for the controversial project.
The SA National Roads Agency (Sanral) yesterday geared up for its onset with a demonstration of the technology behind e-tolls.
Sanral yesterday hosted members of the media for a technical briefing of the e-toll system at the e-toll central operations centre (COC), in Midrand. The centre includes a transaction clearing house, violation processing unit, and a fully-operational call centre. The expansive tolling project already comprises a staff complement - both temporary and permanent, in-office and mobile - of about 1 300 employees.
Gauteng Freeway Improvement Project (GFIP) project manager Alex van Niekerk says that, even though tolling has not yet started on the upgraded GFIP roads, over 10 000 road users are already using e-toll accounts to pay tolls at the Bakwena electronic tolling facilities on sections of the N1 and N4 highways.
Tolling tech
Salahdin Yacoubi, CEO of e-toll operator Electronic Toll Corporation (ETC), says the project is heavily reliant on technology - from IT and telecommunications, to video and security.
The system, says Yacoubi, comprises three main parts: the communication with vehicles (e-tags), video cameras for 3D rendering of vehicles for the purpose of classification, and standard cameras for photographic logging of front and rear number plates.
The 49 gantries that are spread across Gauteng connect to the COC via fibre technology, and all transaction clearance, vehicle checking and IT systems monitoring are carried out from the COC - described by transport department spokesperson Tiyani Rikhotso as "the heartbeat of the e-toll project".
Van Niekerk says photographs taken of vehicles passing through the gantries - together with the relevant information garnered by the video system - are sent directly to the transaction clearing house. "Here the system verifies the e-tag with the number plate."
Important to note, says Van Niekerk, is that e-tags cannot be cloned - a fact he says will help weed out motorists with false number plates, and ultimately assist law enforcement bodies in the fight against crime.
Once the motorist has had his or her credentials verified and checked against their registered e-toll account if applicable, the relevant tariff is attached and invoices sent.
The national call centre (0800-SANRAL) can handle up to 16 000 interactions a day, says Yacoubi. There is a capacity for 450 call centre agents - although only 150 of these positions are currently filled - who field queries and give feedback via telephone, SMS, fax and e-mail. The call centre, operational between 6am and 10pm, is intended to help motorists register for e-tolls and manage their e-toll accounts.
There is also an image verification centre, currently consisting of 107 employees, for the manual validation and verification of number plates in instances where Sanral has "reason to believe" information is amiss.
"Everything we do here [at the COC] is highly automated, but the image verification centre is where technology and humans converge, for the specific checking of certain motorists' credentials," says Yacoubi.
He points out what ETC and Sanral position as an "added benefit" of e-tolling - the Twitter account @iTrafficGP - which was registered to keep motorists updated via live traffic feeds.
Van Niekerk says, as part of the e-toll system tests being carried out by Sanral since April, over two million vehicles have been logged. "Information collected during this period shows that over 90% e-tag users in the light motor vehicle category will pay less than R200 a month in toll fees."
Data collected via the e-toll system, says Van Niekerk, is held confidentially.
Registration for e-tolling is still open and road users can either register online at www.sanral.co.za, by calling the e-toll call centre on 0800 SANRAL, or at an e-toll customer service outlet. Road users can also register by filling out a customer information sheet and faxing it to 0800 SANRAL (726 725), e-mailing it to info@sa-etoll.co.za, or handing it in at an e-toll customer service outlet.