Philips SA opens smart mini clinic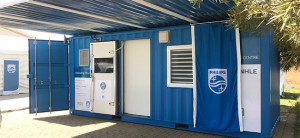 Philips SA, in collaboration with the Rhiza Foundation, has unveiled SA's first Mini-Community Life Centre (CLC) in Diepsloot, Gauteng.
Equipped with Philips medical devices for diagnosis, triage, referral and refrigeration (blood storage vaccines), the healthcare facility was designed to provide access to primary healthcare services with a focus on mother and child care.
According to Philips, the CLC is a self-sufficient concept for primary healthcare delivery and social development that the technology giant is pioneering in SA, with the intention to introduce the concept across the continent.
It will provide healthcare services to an estimated 1 500 patients each month, improving the quality of life for the residents of Diepsloot. It is powered by a solar power off-grid unit and has energy-efficient light-emitting diode lighting installed, to enhance security in surrounding areas and enable after-hours services.
Speaking to ITWeb at the launch on Friday, Christoph Castellaz, head of strategy and new business development and global programme lead primary community health at Philips Africa, said the CLC aims to turn a health facility into a community hub, where technology is integrated with services to empower the community.
"The CLC is furnished with technology and equipment which connects to the electronic medical record system. It also has various healthcare devices, such as the Philips children's automated respiration monitor and the Wind-up Foetal Doppler, which is used to measure the foetal heart rate and is fully portable and operates without the need of main supply or batteries. Other types of technologies include training, tracking and evaluation tools to track and analyse the progress of the centre," he explains.
Castellaz notes that in the next phase of the project, additional IT infrastructure will be put in place, where patient data will be captured electronically, stored in the cloud and analysed.
"In future, data from other areas of the clinic will be harvested and utilised to derive crucial information, such as the type of additional training or capacity-strengthening required by staff, common illnesses faced by patients, and demographics. Through cloud services, referral health facilities will also be able to gain access to patients' medical records."
Diepsloot, a densely populated township in the north of Johannesburg, is home to approximately 450 000 inhabitants and faces a number of challenges, including the lack of access to qualified healthcare workers, and shortage of electricity, water and basic healthcare technology.
"I am delighted that we have launched our first CLC in SA. Through this platform, we have introduced a new value delivery model. We believe the CLC will not only deliver essential access to quality healthcare, but will also have a positive social impact on the community," says Jasper Westerink, CEO of Philips Africa.
"To ensure the sustainability of the operation, in addition to Philips healthcare equipment, our support will include training, maintenance and remote monitoring, paired with the experience that Philips has with public-private partnerships."
In May 2015, Philips and Rhiza Foundation launched a mobile "health clinic on wheels" to service an average of 1 000 residents a month. To cater for the increasing demand on the mobile clinic, the companies decided to build the mini CLC, which is larger than the mobile clinic and will now enable a vaccination drive.