Coding skills for SA primary schools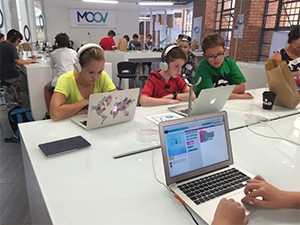 In a technology-driven world, learning the language of computers is becoming a critical skill for children. Whether they want to become programmers or not, computational thinking is an essential skill needed to flourish in the 21st century. This is according to CodeSpace facilitator Mineze Grobler.
In response to the global trend towards gearing children for a digital future, Grobler says education organisation Think Ahead Education Solutions has launched an initiative called CodeSpace, which aims to teach school children digital skills.
She explains CodeSpace makes use of iPads, using apps such as Hopscotch and Tickle - block-based programming apps designed on the MIT Scratch programming interface - to teach children the fundamentals of computer programming such as loops, variables, and conditional statements - without having to grasp tricky computer programming lingo.
"CodeSpace has been designed to teach kids the basics of computer programming and computational thinking. We offer a 10-week course designed to be run as a school extra-mural activity. The sessions, which cater for groups of maximum 25 school pupils at a time, are set in a fun and interactive environment.
"Using an approach that is centred on design-based learning, as they learn by designing, the pupils create their own projects and leave equipped with vital digital skills, confidence, inspiration, and an eagerness to learn at the end of the course," Grobler continues.
Think Ahead says CodeSpace was initially run as a school holiday programme and has now been extended into a long-term initiative which has more than 90 learners from grades 5 to 7 across private and government schools in SA.
Redhill School, Thuthuzekani Primary School and Charter House are among the 30 schools that have attended the programme which is open to both public and private schools.
Michelle Lissoos, MD of Think Ahead Education Solutions, says apart from the main CodeSpace courses, Think Ahead also offers a specially designed course for girls, CodeSpace for Girls, which is geared towards encouraging and inspiring young women to consider technology careers for their future.
"A factor common to most countries is that the ICT sector is perceived to be a male-dominated industry. This is true for SA as women only account for 10-12% of total ICT management.
"CodeSpace for girls has been designed as a specific intervention to close this gap and get South African girls interested in coding and aims to encourage them to take up more STEM (science, technology, engineering, and maths) subjects and in the future, be able to close the gender gap within the information and technology space," notes Lissoos.
She points out that the approach taken is based on the same curriculum as CodeSpace but incorporates projects catering to female interests in order to encourage girls to consider technology-related careers. It also offers exposure to career opportunities and mentorship.
"Think Ahead facilitators incorporate these 21st century skills throughout the programme and provide context to enable learners to make sense of digital things in the world," explains Lissoos.
She concludes that using these tools to design their own games, art, and animations encourages kids to become creators of technology instead of consumers. Computational thinking skills and mathematical skills are also put to work when writing code for real-life application using robotic toys such as Sphero.