New app gives inside info on uMhlanga Rocks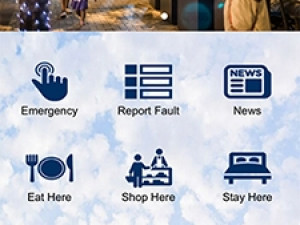 The uMhlanga Rocks place-making committee has created an app for residents and visitors to the KwaZulu-Natal seaside town.
The app provides a business directory, local emergency services contact details, as well as a place to report public space faults to the municipality. It displays a list of simple icons which direct users to different information.
The committee said it was created because there was no central hub of information available.
The uMhlanga Rocks app acts as more than a business directory, says the committee.
"The app is aimed at anyone from the Durban locale looking for a wedding present, or a day visitor wanting to know about umbrella hire, to an uMhlanga Rocks employee on a lunch break or a tourist wanting evening entertainment," says Cara Reilly of the uMhlanga Rocks place-making management company UrbanPLACES.
The app includes an emergency button that directly dials a 24/7 manned security control room; a report a fault button which gives users the option to upload a picture; a local news section; area information including municipal operating hours and local history; an A-Z listing of businesses and services; and contact details for local authorities.
Other links direct the user to the Urban Improvement Precinct Web site, uMhlanga Tourism, and business and event listings.
The committee feels it is important and necessary to have a single listing of all information together in an app, even though they have a presence on social media, because of how much time is spent on smartphones.
It says a Google search provides too much unordered information and social media makes it hard to find specific area information.
uMhlanga Rocks place-making committee chairperson Shantelle Walters says the team has been working on the app for months and has tried to make it as comprehensive as possible.
The app was developed by Geoff Austin and APP Fabulous.
It is free to download for Android and Apple smartphone users. More information can be found here.