WhatsApp hits 1bn users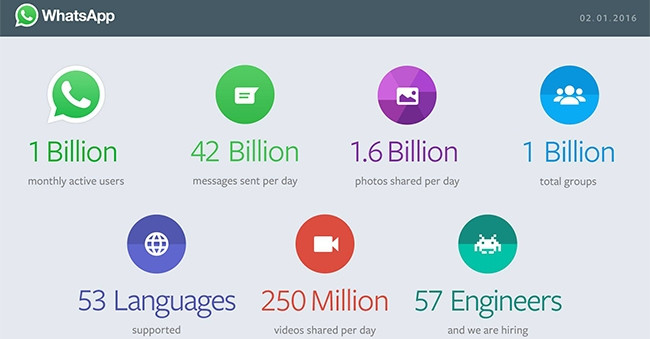 Instant messaging service, WhatsApp, now officially connects one in every seven people worldwide. This morning, the company announced one billion monthly active users of the service.
Other numbers include 42 billion messages, 1.6 billion photos, and 250 million videos shared each day. There are also one billion groups on the platform.
The seven-year-old company was acquired by social media giant Facebook for $19.2 billion in 2014.
Last month, the service dropped its $1-a-year subscription, making WhatsApp completely free to users. CEO Jan Koum said at the time the company will instead focus, this year, on simplifying how businesses interact with consumers.
World Wide Worx MD Arthur Goldstuck says the young age of the service shows how quickly the global communications landscape can shift.
"The insatiable need for instant, non-voice communication has been driving massive instant messaging take-up across the board and across the world for the past 10 years. The challenge is to provide the service in a way that best meets users' needs.
"The richness of the WhatsApp experience on the one hand and its simplicity on the other, along with the built-in virality of being able to invite contacts who have not downloaded it, has given it a massive head start."
However, Goldstuck says WhatsApp will need to keep evolving in response to changing consumer needs. "For example, its reliance on a phone number is a strength for now, but could turn into a weakness eventually, as people wean themselves off the traditional phone number."
Key ingredients
WhatsApp attributes its unprecedented growth to utility, infrastructure, locality and access.
"WhatsApp is relentlessly focused on giving people the most useful experience with every message, photo, video, file, or audio clip they send," the company said in a statement.
With regards to infrastructure, WhatsApp said: "We built WhatsApp for the poorest network conditions so people can connect more easily without our app draining their battery or using too much bandwidth."
Soon after WhatsApp launched, the company made the app available in multiple languages. It is now offered in 53 languages across seven mobile platforms.
What applications?
WhatsApp users have found a myriad of ways to use the service innovatively, especially in Southern Africa.
A young poet from Zimbabwe, Tafara Adonia Magarira, has grown his fan base using the service. He says WhatsApp is his publisher and uses it to distribute his work to more than 50 people at a time.
WhatsApp discussion groups were used in the Western Cape to experiment with improving primary healthcare education.
Local news broadcaster, EWN, has been using the service to update readers on breaking news events. EWN broadcasts morning briefs and a round-up of the day's stories to over 4 000 subscribers.
In August last year, WhatsApp's parent company Facebook had over a seventh of the world's population log on to the network in a single day.
Facebook's other messaging app, Messenger, now has over 800 million users, as was announced in the company's results last week.