Kaspersky promotes cyber security awareness in schools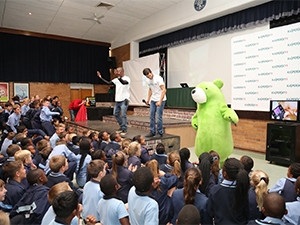 Around 55% of South African children of schoolgoing age can't live without their smartphones and 30.5% admitted to having received sexual messages online.
This is according to Konstantin Ignatev, acting head of content analysis and research at Kaspersky Lab, revealing research findings of the Kaspersky Security Network (KSN) research yesterday at Bryandale Primary School in Johannesburg.
The security firm, in partnership with Active Education, has embarked on a series of interactive cyber security roadshows at selected schools in Johannesburg and Cape Town, aimed at driving awareness around online safety and existing cyber threats facing children.
Ignatev explained children are among the most active Internet users, and are also unfortunately subject to a number of threats while surfing the Internet.
"Children fall prey to various online scams, such as identity theft, cyber bullying, accessing inappropriate content and grooming (when someone builds an emotional connection with a child to gain their trust for the purposes of sexual abuse, sexual exploitation or trafficking). In recent years, children are increasingly faced with cyber bullying - humiliation or harassment through electronic communication tools. Around 22% of children reported having being treated in a hurtful or nasty way online in the past year," he revealed.
He further highlighted several major threats associated with social networks; for example, children accidentally or intentionally entering pages with content either related to pornography or information related to drugs or suicide, as well as scenes of violence or weapons. Data from the KSN (a distributed system that collects data about existing threats in real-time) shows 20% of children based in Johannesburg open sites about drugs, alcohol and tobacco, he added.
"Another research report by SA Kids Online showed 30% of children added new people to their social media friends list, whom they have never met in real life. One can never be completely sure who is on the other side of the monitor - a peer child or adult attacker. The situation is aggravated by the fact that children often publish their address or school number in social networks, indicate places and locations they go to - 67% of children shared details about the school they attend and 54% shared their places and locations - which can put them at risk of potential harm," noted Ignatev.
Riaan Badenhorst, GM of Kaspersky Lab Africa, said children today have access to so many technologies which can bring online security risks when not used appropriately.
"While the Internet provides many benefits to children, we know that it can also be a dangerous place and as such there is an important need to educate and create awareness about safety online ? both among children and parents. Fifty-three percent of parents are afraid their children could be faced with inappropriate content online and only 20% of parents are in contact with their children on social media, yet parental controls are only installed on only 31% of children's devices."
The schools cyber security roadshows come amid mounting suspicion in the US that Kaspersky Lab is vulnerable to Russian government influence.
Last month, Reuters reported the Trump administration removed Kaspersky Lab from two lists of approved vendors used by government agencies to purchase technology equipment, amid concerns the cyber security firm's products could be used by the Kremlin to gain entry into US networks.