Didata brings pedal power to pupils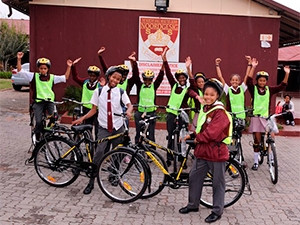 As part of its ongoing Urban Scholar Bicycle Programme, Dimension Data, in partnership with the City of Jo'burg (COJ) and Qhubeka, delivered 55 new Qhubeka Buffalo Bicycles to high school students in Orlando, Soweto yesterday.
The bicycle distribution initiative aligns with COJ's goals of sustainable development and Qhubeka's vision of building communities of excellence powered by bicycles.
According to Dimension Data, in 2015 COJ identified Orlando as an area in which to distribute bicycles after having constructed dedicated cycle lanes in the area, sponsored by the German KfW Development Bank.
Noordgesig Secondary School in Orlando, the recipient of the 55 bicycles was selected by the regional councillors of the COJ as part of the city's plans to create a cycling-friendly city and to reduce traffic congestion in the city.
Grant Bodley, CEO of Dimension Data Middle East and Africa, says the 55 bicycles were funded by five of its professional cycling teams who participated in the 2015 Absa Cape Epic.
These teams, he explains were made up of Dimension Data employees who not only trained for and rode the Absa Cape Epic, but also raised funds for bicycles for schoolchildren to ride to school.
"At Dimension Data, we are passionate about education and the power it has to change lives and transform society.
"Through this partnership with Qhubeka, we can ensure that more children remain in school and are able to realise their ambitions," says Bodley.
Bodley added Dimension Data is the title sponsor of Team Dimension Data for Qhubeka, Africa's first World Tour cycling team, and is thus supporting the team's "BicyclesChangeLives" campaign, which aims to raise funds for 5 000 bicycles for the Qhubeka programme recipients during 2016.
Dimenson Data says last year the campaign funded 5 020 bicycles, which were distributed to schoolchildren in SA. This year, the 5 000 bicycle target is aimed at providing bicycles to adults as well as schoolchildren across SA to improve people's mobility and thereby their access to education, healthcare and economic opportunity.
According to World Bicycle Relief programme Qhubeka, the Urban Scholar Bicycle Programme was developed through its collaboration with the City of Jo'burg, the Department of Transport, school principals and school governing bodies, South African Police Service and Community Policing Forum.
"'Qhubeka' is an Nguni word that means 'to progress', and we really believe that these bicycles will help their new owners to progress at school and in life.
"We are thankful to Dimension Data and City of Jo'burg for partnering with us to help change these schoolchildren's lives for the better with bicycles," says Qhubeka executive director Sarah Phaweni.
She points out learners considered for the programme are required to meet certain qualifying criteria to be able to receive a Qhubeka Buffalo Bicycle. Recipients are chosen according to their need and are required to make a small financial contribution towards bicycle maintenance, provided by Qhubeka-trained and certified bicycle field mechanics.
Since its inception in 2005, Qhubeka has delivered more than 60 000 bicycles to people across SA.