Dr Grobler receives businesswoman award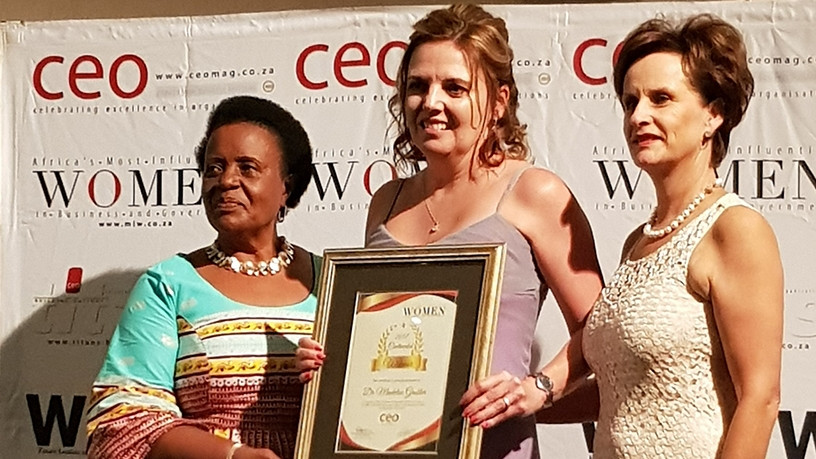 Dr Madelise Grobler, MD of Bytes People Solutions, has been named most influential woman in the ICT category by Africa's Most Influential Women in Business and Government 2017 Continental Awards.
The awards are a culmination of a flagship recognition programme, CEO Global, established in 2001 with the aim of being a platform for the upliftment and celebration of the achievements of women in the economic sectors that they operate, their communities as well as economic development.
"It's an incredible honour to have been considered for these awards and to be associated with other phenomenal women from across the African continent who have played a pivotal role in the development of society, to drive economy and consistently exercise a positive influence on our continent; says Grobler.
"I hope my success encourages young women to take up ICT as a career. Women can flourish in the industry, and if they have a solid grounding in ICT, this will stand them in good stead for a management role. Women sometimes fall flat because they don't have the right technical skills.
"These awards also highlight the paramount effect the learning and enabling technologies projects implemented by our company over the years have had on development programmes, helping Africa leapfrog out of the 'dark continent' misnomer. The strategic merging of digital transformation and technology has created a platform for meaningful impact on people and business sustainability."
Grobler obtained her Doctorate of Commerce (Informatics) degree cum laude at the University of Pretoria, as well as a DCom Informatics degree from the University of Delft in the Netherlands.
Prior to joining the corporate world, Grobler held a position as informatics lecturer at the University of Pretoria and has more than two decades of experience in IT-focused learning and development.
Commenting on women development in the ICT industry, Grobler urges young women to be patient, get a solid base and then specialise.
"One's starting point in ICT doesn't have to be programming; women can adopt a broader ICT background instead of specialising from the beginning and putting too much pressure on themselves. At present, the sector remains very male dominated, and women can be intimidated by men who think they are more knowledgeable about matters relating to technology - this is not always the case. ICT is an environment where constant problem solving is required, and is also an ongoing learning environment, and new certification is constantly required to keep up with technologies and products. What you know today is old tomorrow."
Earlier this year, Grobler won the award in the same category for SA as well as for the SADC region.