Microsoft, Gauteng govt offer ICT training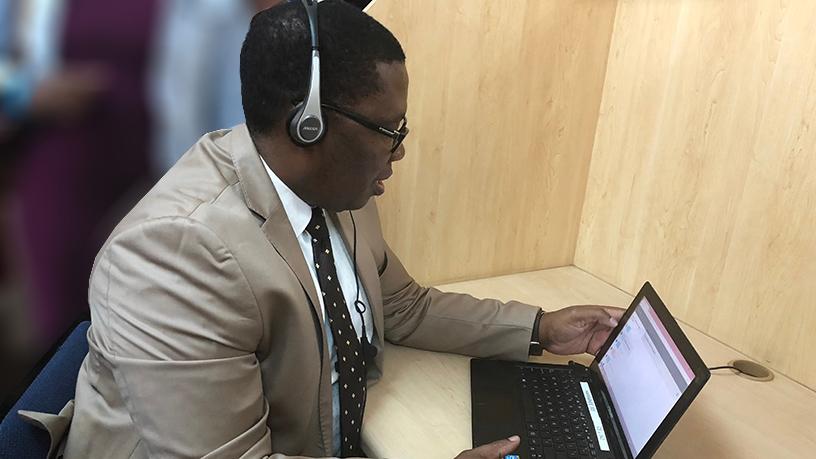 The Gauteng Provincial Government, in partnership with Microsoft SA, has launched an e-learning platform, Thint'iMillion, targeted at training unemployed youth as part of the Tshepo 1Million Digital Mass learning programme.
The Tshepo 1 Million programme is a youth skills empowerment initiative which offers one million jobless young people in Gauteng skills training, job placement and entrepreneurship development to help them gain employment.
Speaking at the unveiling yesterday at the Sebokeng Library in Vaal, Gauteng education MEC Panyaza Lesufi said the Thint'iMillion aims to provide young jobseekers with essential Microsoft Office365 skills, K53 learners licence lessons and an opportunity to register for a matric exam re-write, to make them more employable.
"In SA, approximately 30% of youth aged 15 to 24 are unemployed. No company will employ our youth if they don't know how to send an e-mail, use Microsoft Excel, PowerPoint or use Microsoft Word, and today we are giving young people these skills free of charge.
"We are not only launching their careers, but we are also walking along with them to the next stage of their lives by further offering the learners K53 learning platform, and we are also providing those who did not pass their matric with an opportunity to register to re-write their matric via this platform. Thint'iMillion provides a one-stop shop to accessing different types of skills they require to be more employable," he explained.
Through the Tshepo 1 Million programme, the Gauteng government has empowered 650 000 young people through partnerships with almost 40 local non-governmental and private organisations, that have assisted in training the young participants, Lesufi noted.
"Skills deficiencies are a big hurdle to youth employment, making initiatives such as these vitally important as effective labour market interventions that will help us improve the employability of South African young people," Lesufi pointed out.
The Thint'iMillion programme is deployed on Project Sangam, a cloud-hosted, mobile-first digital training and employment platform, allowing young people to access content via a the Thint'iMillion mobile app (Android only), the mobi site as well as the interactive Web portal - available at all public libraries across Johannesburg.
"Through this partnership with the Gauteng provincial government, we will be able to better empower the workforce of the future," says Zoaib Hoosen, MD of Microsoft SA. "A workforce that is diverse, boasting a youth culture that utilises their digital skills to create a thriving city of entrepreneurs and highly skilled workers."
Skills shortage
According to the latest Quarterly Labour Force Survey by Statistics SA, of the 10.3 million young South Africans aged 15 to 24 years, about 30% were not in employment, education or training. This equates to more than three million young people who cannot find work because they are regarded as too unskilled and inexperienced by prospective employers.
The 2016 ICT skills survey by the Centre for Software Engineering found that there is an increasing demand for skilled labour in the local ICT sector - with the skills gap expected to get worse in the medium to long-term.
During last year's Youth Day celebrations, the-then public enterprises minister Lynne Brown encouraged the youth to pursue studies in maths and science to attain the necessary skills required by some of the country's state-owned companies (SOCs) - which are in need of pilots, engineers, accountants and lawyers, among others.
"Last year [2016], the six SOCs in the public enterprises portfolio (Eskom, Transnet, Denel, SA Express, SAFCOL and Alexkor) collectively enrolled nearly 9 000 trainees in various critical skills programmes. Additionally, nearly 1 800 learners received bursaries for the current financial year."

However, there is a concerted effort by ICT firms to help the country build the capacity needed to develop a digital economy.
In the past two years Google has trained over one million young people in digital skills across Africa and similarly, Africa Code Week last year empowered 1.3 million youth across 35 countries with basic coding skills. Facebook announced its commitment and investment in various skills development initiatives across Africa.
Cloud provider Oracle, along with Obsidian Systems, Cisco and IBM are among many local organisations running ICT skills development programmes aimed at equipping local youth with an array of ICT skills.