Minibus taxi hailing app Aftarobot launched in Gauteng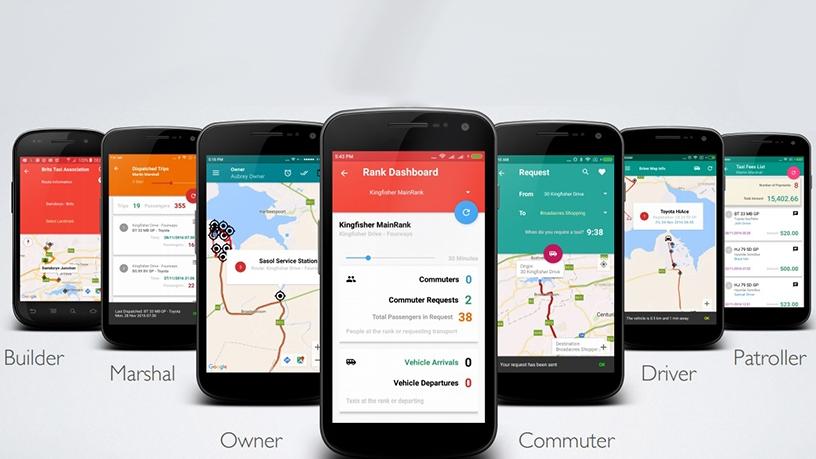 Gauteng-based techpreneur Obakeng Morapeli Matlhoko is rolling out a new transport management app, Aftarobot, at various taxi ranks in Johannesburg south. Estimated to serve 15 million commuters per day, the multi-billion rand minibus taxi industry is viewed as ripe for disruption.
According to Matlhoko, the platform will allow commuters using vehicles from the Johannesburg Southern Suburbs Taxi Association to manage their travel time, locate the nearest mini-bus taxi and select the desired route.
"The app will address some of the challenges that have plagued the minibus taxi industry. From a taxi owners' perspective, there is a lack of operational visibility and control of vehicles. The app will allow them to track their vehicles. The app will enable marshals to see the number plates of cars coming in and select those to build a 'queue list' which would allocate the number of people in the vehicle. This will then enable them to then dispatch the people and recall their workflow.
Similarly, the number of trips the driver has taken for the day and the name of the driver, taxi marshal and rank are also recorded in the app.
"From a technical perspective, the app is based on Qualcomm-enabled 3G/4G devices with Bluetooth, beacons and other advanced wireless technologies. The entire platform consists of a suite of mobile apps running from a cloud backend," he explained.
Matlhoko adds that through the support of Qualcomm Wireless Reach, he aims to implement Aftarobot in more than 10 000 vehicles owned by 4 000 owners servicing 50 000 commuters.
Qualcomm Wireless Reach is a foundation that brings advanced wireless technologies to underserved communities globally with the intention of improving lives with programmes that strengthen economic and social development. According to the foundation, it has serviced over 10 million beneficiaries in the last 10 years, including a mobile health information system implemented in the Eastern Cape Province.
Aftarobot is one of many locally developed taxi-hailing apps that have entered the landscape since the introduction of Uber and Taxify. The last few years has seen the likes of Cabbi, Zapacab, AfricaRide and Yookoo Ride become part of the expanding sector.
Meanwhile, front-runner Uber has reaffirmed its intentions to continue investing in Sub-Saharan Africa. In a recent interview with Bloomberg Technology, chief executive officer Dara Khosrowshahi said that Uber will continue to be passionate about expansion and would be 'leaning forward' in all continents, including SSA.
"By the end of 2017, 29 000 driver-partners across SSA were taking advantage of the earning opportunities on the app. Uber is just getting started. We continue to invest in smart ideas to make our app relevant and helpful to the unique needs of each of our cities. Multiple vehicle financing programmes have been made available to drivers across South Africa, Kenya and Nigeria, which reduce barriers to credit and capital. Drivers have access to vehicle finance. The model provided is based on driver ratings and earning potential, as opposed to the norm of credit checks. The model was successfully expanded across SSA and is being tested in markets across EMEA."